Outreach
Sometimes we leave the ivory tower, and crawl out of the lab dungeons into the light. Here a few snippets of such occasions.
Virtual lab tour for high school students
As part of the Physics department enrichment camp 2020, organized by the Physics Society of the NUS Physics department, we offered a virtual lab tour. Some of the video snippets are available via youtube.
Live Single NV center view at X-periment! 2015
Giving CQT's spin on sensing magnetic fields to the shopping center crowd at X-periment! 2015 in Vivo city, Wilson managed to bring the confocal microscope looking at single NV centers in diamond on stage, and did a live show of one of them. A cool preview of how small quantum technology sensors for magnetic fields can be... although we could not resist bringing in some magnetic field toys people are more used to, including compasses. Was great fun to have our colleagues from Rainer Dumke's team around showing a SQUID - and having some fun with liquid nitrogen!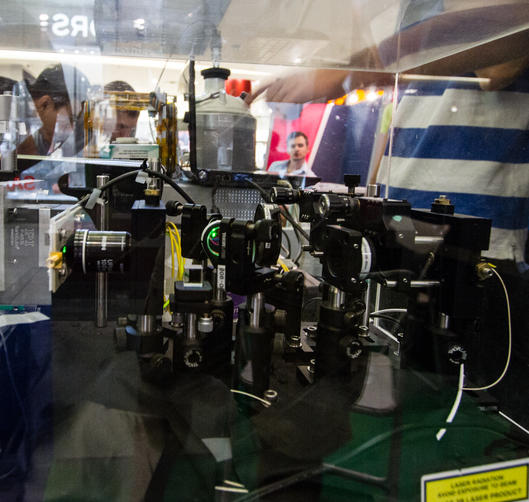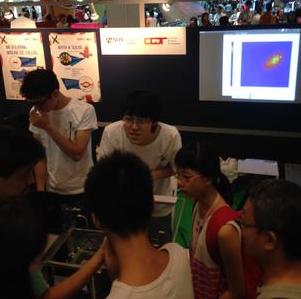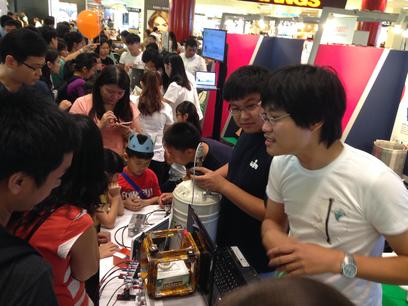 Double Feature at X-periment! 2014 and Mini Maker Faire 2014
We thought we should show people a few new things we occasionally tinker around with this year. As we love to play with light as much as the kids coming by our booth in search of rest from mother's shopping marathon, we connected a spectrometer to a telescope and chased various light sources revealing the physics behind them. Amazingly interesting in times when fluorescent lamps get replaced by LEDs, and when sunlight filtered by clouds reach the place! And yes, Nick borrowed the superconducting race track because he always wanted to play with it but somehow never found a reasonably credible excuse...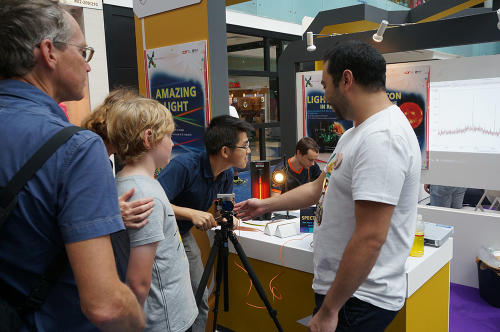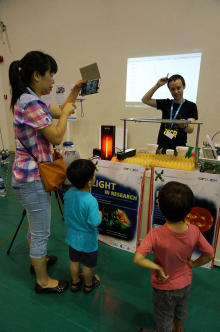 Singapore Mini Maker Faire 2013
We flocked around at Singapore Mini Maker Faire 2013 at the *SCAPE warehouse on 27 July, showing some of the basic tools & toys we use and often make in our labs. A new setting for us, trying to find other makers. Similar to earlier events, we demonstrated live some of the weird aspects of quantum physics: light showing aspects both of waves and particles, and entanglement for pairs of photons.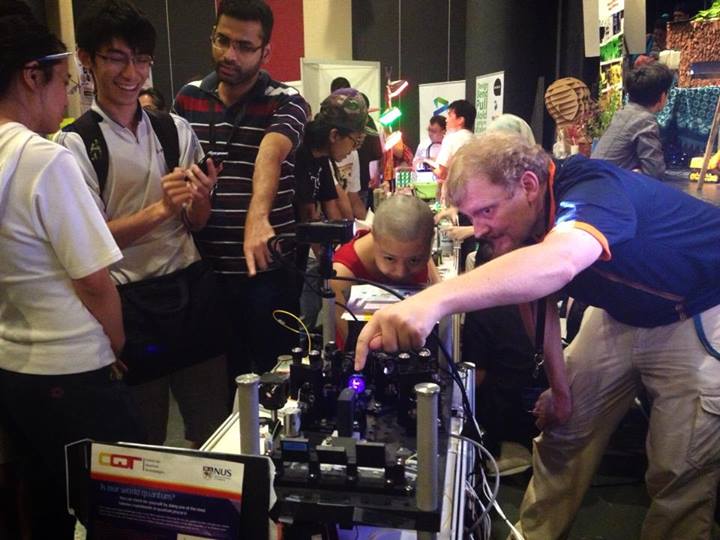 X-periment! 2010 - It's OK to violate a Bell inequality
Again joining in science in shopping centre idea in Singapore, young and old came along and violated a Bell inequality in Marina Square from 30 July to 1 August 2010. Despite Singapore being a fine city, a violation rendered a certificate, not a ticket! We also prepared a page for the geeks with some of the gory details.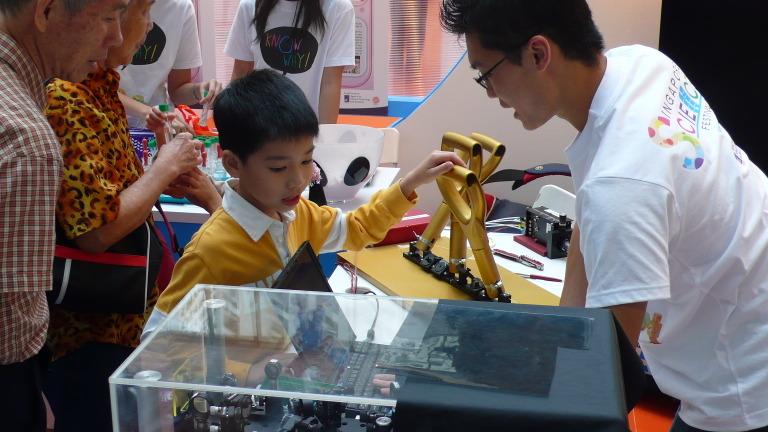 Hack the Quantum @ DEFCON17 and HAR2009
Back on the road with the vintage PDC source! Again we went to Vegas to show some hardware together with the NIST guys. We showed the basics of how to fool a single photon detector into "clicking" at the request of an eavesdropper and set up a fun fair competition for the DEFCON participants to see who could achieve the highest violation of a Bell inequality by carefully aligning the measurement basis. The Golden Handles were connected to a very fiddly polarization controller. After that Ilja joined up with Vadim in the Netherlands and presented the hacking setup to yet a different audience in Hacking at Random.
Quantum Road Trip 2008
Together with our colleagues form NIST, we also flocked around the two biggest hacker conventions in the US, Black Hat and its underground sister DEFCON in August 2008 with our quantum key distribution systems. Of course we were late in setting up stuff...
After that, we went on tour with our equiment at an off-site location nearby. Check out this longish video clip about this detour.

QuantumRoadTrip on Vimeo.
Read more about this overseas experiment.
Workshop @ Chaos Communication Congress
Cryptography is only as good as you are willing to expose it to those who know how to break it - in this spirit, we brought our QKD kit to the big European grassroot geek event, 24C3 in Berlin in 2007. To all our surprise, we got it running right out of the - admittedly large - box!
DSTA Defence Technology Exhibition 2006
We exhibited our crypto system on NTU campus for the DSTA Defence Technology exhibit in 2006.
IDA Infocomm Technology Foresight symposium
March 8, 2005, Raffles City Hotel, Singapore
X-periment '04
Once a year ASTAR organizes an exhibition where people are here in Singapore on weekends - the shopping malls. We had a stand with a Mach Zehnder Interferometer and some toys to measure the speed of light. After while, we became good in getting the kit working again once we were rolled over by gangs of primary school kids....