Outreach
Sometimes we leave the ivory tower, and crawl out of the lab dungeons into the light. Here a few snippets of such occasions.
X-periment! 2010 - It's OK to violate a Bell inequality
Again joining in science in shopping centre idea in Singapore, young and old came along and violated a Bell inequality in Marina Square from 30 July to 1 August 2010. Despite Singapore being a fine city, a violation rendered a certificate, not a ticket! We also prepared a page for the geeks with some of the gory details.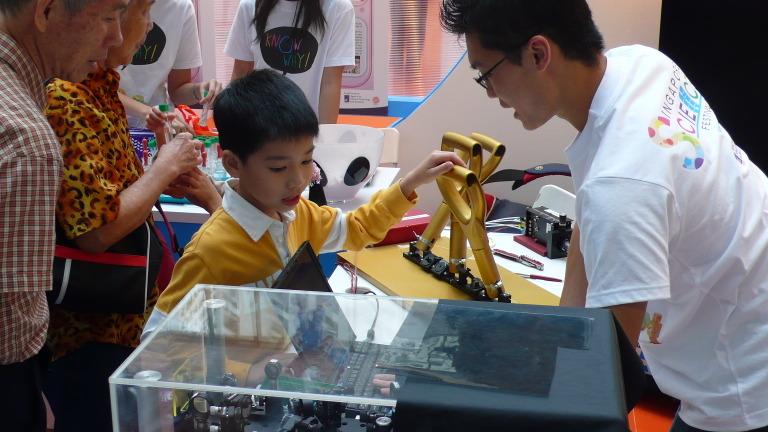 Hack the Quantum @ DEFCON17 and HAR2009
Back on the road with the vintage PDC source! Again we went to Vegas to show some hardware together with the NIST guys. We showed the basics of how to fool a single photon detector into "clicking" at the request of an eavesdropper and set up a fun fair competition for the DEFCON participants to see who could achieve the highest violation of a Bell inequality by carefully aligning the measurement basis. The Golden Handles were connected to a very fiddly polarization controller. After that Ilja joined up with Vadim in the Netherlands and presented the hacking setup to yet a different audience in Hacking at Random.
Quantum Road Trip 2008
Together with our colleagues form NIST, we also flocked around the two biggest hacker conventions in the US, Black Hat and its underground sister DEFCON in August 2008 with our quantum key distribution systems. Of course we were late in setting up stuff...
After that, we went on tour with our equiment at an off-site location nearby. Check out this longish video clip about this detour.

QuantumRoadTrip on Vimeo.
Read more about this overseas experiment.
Workshop @ Chaos Communication Congress
Cryptography is only as good as you are willing to expose it to those who know how to break it - in this spirit, we brought our QKD kit to the big European grassroot geek event, 24C3 in Berlin in 2007. To all our surprise, we got it running right out of the - admittedly large - box!
DSTA Defence Technology Exhibition 2006
We exhibited our crypto system on NTU campus for the DSTA Defence Technology exhibit in 2006.
IDA Infocomm Technology Foresight symposium
March 8, 2005, Raffles City Hotel, Singapore
X-periment '04
Once a year ASTAR organizes an exhibition where people are here in Singapore on weekends - the shopping malls. We had a stand with a Mach Zehnder Interferometer and some toys to measure the speed of light. After while, we became good in getting the kit working again once we were rolled over by gangs of primary school kids....